Commitment. Respect. Integrity.
Through my extensive knowledge of the region and thorough understanding of the real estate trends throughout the Greater Pittsburgh area, I am dedicated to delivering exceptional, top quality professional service with an easy going, positive "Can Do" attitude.
I am committed to providing my clients superior guidance in developing a plan of action to accomplish the goals surrounding one of life's biggest financial decisions and exciting milestones. Whether you are new to the market as a first-time buyer, looking to sell/lease a home, or a seasoned real estate investor, I have the expertise, proven track record and resources to help my clients achieve their aspirations.
Looking for a Real Estate Agent who puts you first?
Known for serving my clients with a resourceful, strategic approach and a calm, steady focus on their needs and goals, I enthusiastically strive to deliver a smooth, pleasant transaction for my clients. I achieve this high level of personalized service by listening to my clients' specific needs and providing prompt, responsive communication. With each client, my innate desire to help others shines through. Clients will often say that when they work with me, they feel as they are a part of the family. For me, those words speak to my heart as I genuinely care about my clients and steadfastly advocate for their best interests every step of the way.
When working with sellers, I implement effective and tactical marketing strategies that clearly accentuate each property's specific features. My enhanced market knowledge, professionalism, unbiased advice, and extensive marketing efforts prove exceptional results – the best price in the shortest amount of time.
Buyers appreciate my patience and honesty, and my lifetime knowledge of the neighborhoods and communities that make Pittsburgh an amazing place to call home. My "no pressure" approach allows my clients the freedom to make the right choice for them when they are ready.
The Expert by Your Side
Well respected by my colleagues and past clients, throughout the years I have earned sterling reputation in the industry has helped me achieve my objective of successfully and seamlessly helping hundreds of people with their real estate needs. I have a carefully cultivated, strong network of professionals to assist my clients at any juncture in the transaction process and beyond.
Growing up in Bloomfield, one of the city's best-known neighborhoods also known as Little Italy, I learned the strong work ethic and drive to always do my best from my hardworking parents. I grew up at time when the Steel City was undergoing a transformation emerging from the demise of its steel industry history and growing into the technical and medical powerhouse Pittsburgh is known for today. Starting at the age of 5, my passion and talent for baseball carried me through to college with a scholarship to Mercyhurst University, where in 2016 I was inducted into the Mercyhurst Athletic Hall of Fame.
When not working, that same youthful passion for sports plays out on the fields. Alongside my wife, Tara, of over 20 years we cheer on our children and their scholastic and athletic endeavors. Spending time with my family and friends is truthfully my favorite pastime. And of course, rooting for the Steelers, Pirates, or Penguins is part of the lifeblood that surges through native Pittsburghers alike.
Designations/Certifications/Accomplishments
Pricing Strategy Advisor (PSA) Certified by NAR
NATIONAL ASSOCIATION of REALTORS Commitment to Excellence Endorsement (C2EX) Endorsement
Accredited Buyer's Representative, ABR®
e-PRO®
Best of Zillow Agent
Zillow Premier Agent
RE/MAX Executive Club Member 2015, 2017, 2018, 2019
Mercyhurst University, Athletic Hall of Fame Inductee 2016 (Baseball)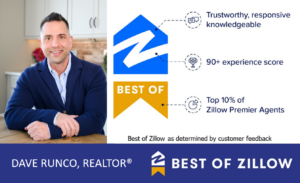 Education
Mercyhurst University, Bachelor of Arts, Business Management,1996
Central Catholic High School
Volunteer Work
American Heart Association Volunteer Member
Ferdinand Church
Memberships
Member of REALTORS Association of Metropolitan Pittsburgh (RAMP)
Member of National Association of REALTORS®
Skills & Traits
Detail Oriented
Strong Negotiator
Unwavering Commitment to Service
Strong Work Ethic
Excellent Team player
Exceptional Communication Skills
Solid Problem Solver
Results Driven
Technological Mindset
Resourceful
Responsive
The Right Real Estate Agent for You
Whether you're buying or selling, it's ultimately about realizing a dream. I understand how much the decision will mean to you. In fact, that's one of the reasons I became a real estate agent – to help people buy or sell a home, while making the process easy and trouble-free. Clients often tell me how much they appreciate my expertise, my willingness to be there with them every step of the way, and my determination to get them the best deal. They also tell me I'm friendly and a pleasure to work with – which is quite a compliment!
Next Steps
If you're looking for a real estate agent, it's important that you find someone who is a good fit for you. So let's talk. Whether you're selling or buying, I'd like to learn more about you and your needs and goals. You can count on me to "tell it like it is" and give you a realistic picture of what is possible.
Contact me to get in touch.
As a real estate agent who puts clients first, I look forward to hearing from you.