Buying or selling a home is a big deal! It is one of the most exciting times of life, and can sometimes be one of the more stressful times. Whether you're buying or selling a home (or both), your success hinges upon the expert advice and services provided by your real estate agent.
COMMITMENT. RESPECT. INTEGRITY.
These are the hallmark traits behind everything I do. I am committed to providing my clients with professional services based on my years of experience, knowledge and skills. Together we will develop a plan of action to accomplish the goals leading to your real estate dreams.
I've filled this website with tips and resources to help you quickly understand what you need to know — and how I deliver the services designed to meet your needs.
If you're selling click here to learn more about the process and how to ensure your property sells quickly and for the highest price possible.
If you're buying click here to discover how to find your next dream home and get it, without overpaying.
As a lifelong Pittsburgher, I'm the agent who specializes in this local market – and I have a sterling reputation for putting you, the client, first. Any time you want information on the market or are ready to buy or sell a property – contact me. There's no obligation. I take pride in my "Can Do. No Pressure" attitude.
I'm looking forward to learning more about your needs and goals.
---
---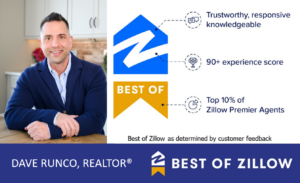 Best Of Zillow ranking is determined by customer feedback. Agents earning the Best of Zillow are in the Top 10% of Zillow Premier agents.
---